Nick's birthday was yesterday. It was a good day. We went for brunch, wandered meijer, and spent the afternoon watching movies and playing video games.
Last week, I attempted to plan a surprise birthday party for him at bdubs with all of his friends. After that, it all went downhill. Which is a little funny, now, but it wasn't when everything was happening.
Thursday, Nick got hired at Mike's Pizza, and got scheduled to work on Friday. I got really upset and the surprise was no longer a surprise.
Turns out, he got out of work early enough for this 'surprise' to still take place, so we ended up at bdubs. Half the people I had invited bailed, which was incredibly frustrating.
HOWEVER.
After that, we had a blast. Sam, Sam, Dom, Nick, and I had a blast. We had an AWFUL waitress, and we had some...interesting conversations.
We saw an incredibly sketchy van while singing the pokemon theme.
Then we had a cake with re-lighting candles.
Sam almost dropped the cake, and then Sam Ward poured 5 glasses of st. julian's instead of 4.
We then sat around and watched jackass on TV for awhile and enjoyed some quality sugar comas.
It was a good weekend. Now I'm onto day 2 of my weekly grind, and spring break starts at 9 AM on THURSDAY YAAAYYYYYY!
Not that it's all that exciting, but when I'm done with all my homework and the like that I have over Spring Break, I'll be able to concentrate on doing whatever I want.
We've been talking about a camping trip to Colorado for this summer, and I think it's actually going to happen. 10 days of hiking, campfires, and having a good time. Wow. Summer, come sooner.
And if this trip actually happens, I'm going to need to get into better shape. This morning I started a good workout routine, with 20 minutes of running, a mass amount of pushups and crunches, topped off with a bowl of cheerios and a nice shower.
Man, morning classes rock. I'm getting ready to take a nap, and it isn't even noon yet. Go me!
Right now I'm thinking about that trip and about mountains and God's scenery. So here's today's picture.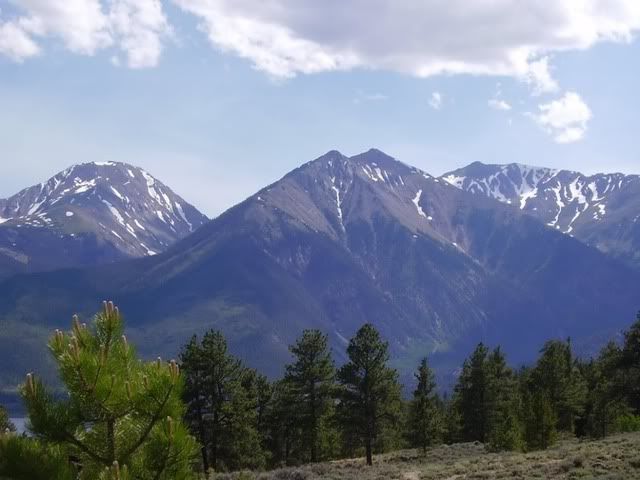 And to think...
I've never seen mountains before.